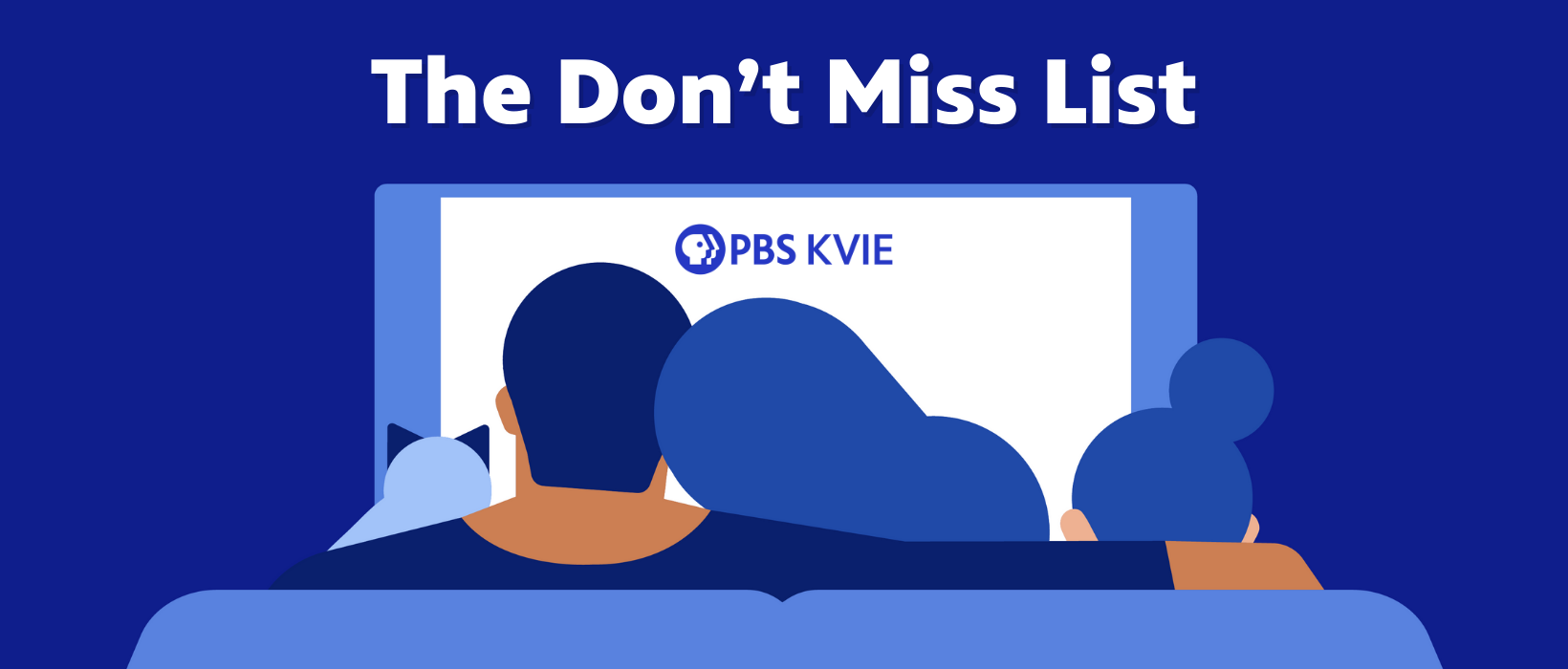 Each month we have a variety of great programs, which can make it hard to decide what to watch! We've compiled a ranking of programs with number one being an absolute MUST watch. Get ready to mark your calendar or set your DVR!
1. Sanditon on Masterpiece, Season 3 
Sundays 4/2, 9, 16 & 23 at 9PM
 
Don't miss the last delightful episodes of the final season. The chemistry rises between Charlotte and Colbourne as they continuously cross paths. Georgiana's trial arrives, and she gets a surprise visit from an old friend. Then, in the finale, a shocking revelation occurs just as Charlotte desperately wants to tell Colbourne the truth about her feelings.
Stream the whole season now with PBS KVIE Passport
---
2. Tom Jones on Masterpiece
Premieres Sunday, 4/30 at 9PM
Two lovers follow their hearts in this clever new adaptation of Henry Fielding's novel, starring Solly McLeod, Sophie Wilde, and Hannah Waddingham. He is a foundling of uncertain parentage, while she is an heiress. In 18th-century England, their class differences make their journey to find each other complicated and treacherous.
---
3. Nature: The Hummingbird Effect
Premieres Wednesday, 4/12 at 8PM                
Venture across Costa Rica's wild and rugged landscapes to discover the nation's dazzling diversity due, in part, to one surprising little creature: the hummingbird. See how these tiny architects and caretakers influence their many flowering kingdoms and play a role in maintaining some of the richest and wildest environments on Earth.
---
4. Changing Planet, Season 2
Premieres Wednesday, 4/19 at 9PM
Revisit seven of our planet's most vulnerable ecosystems and catch up with the truly inspiring people introduced in the first series. Dr. M. Sanjayan follows scientists and local experts fighting to safeguard their communities and wildlife. Plus, meet some new faces who introduce new potential solutions to combat the effects of the climate crisis.
---
5. FRONTLINE: America and the Taliban, Parts 1, 2 & 3
Tuesdays 4/4, 11, & 25 at 10PM
Examine how America's 20-year investment in Afghanistan culminated in Taliban victory. Drawing on decades of on-the-ground reporting from both sides of the war and interviews with Taliban and U.S. officials, this epic 3-part investigation traces the missteps and consequences. Why did we fail in our mission and who was responsible?
---
6. My Grandparents' War, Season 2
Premieres Tuesday, 4/11 at 9PM
Journey into the past to understand the extraordinary impact of the second world war on the families of international stars. Across four episodes, Kit Harington, Keira Knightley, Toby Jones, and Emeli Sandé each explore their family's unique stories, retracing their grandparents' footsteps during the events that changed their lives forever.
---
7. La Frontera with Pati Jinich, Season 2
Premieres Monday, 4/3 at 10PM
Savor the sights, sounds, and flavors of the U.S.-Mexico borderlands alongside acclaimed chef Pati Jinich as she shares meals with self-described fronterizos or borderlanders from all walks of life. Delve into each region's rich culture, people, and cuisine – from the Arizona border steeped in ancient tradition to painful stories of colonization at the New Mexico border.
---
8. Death in Paradise, Season 12
Premieres Saturday, 4/8 at 9:30PM
More impossible murders challenge the Saint Marie team as season 12 begins. During a hunt for a child who disappeared, a true-crime podcaster is murdered. The team investigates the mysterious death of an astronomer after he falls from a cliff. Plus, a member of a commune is poisoned inside a locked bunker.
---
9. Independent Lens: Free Chol Soo Lee
Premieres Monday, 4/24 at 10PM
Discover the story of Chol Soo Lee, a Korean immigrant who was wrongly convicted of murder in 1970s San Francisco, and the pivotal role a Sacramento journalist played in his eventual release. After 10 years of imprisonment, Lee found himself in a new fight to rise to the expectations of the people who believed in him.
---
10. Help! We Bought a Village
Premieres Thursday, 4/6 at 8PM
Join Brits on a mission to restore ancient villages across Europe to their former glory. Hundreds of remote villages are crumbling into the ground, lying empty and unloved. But where some see devastation, others spot opportunity. Can these ghost villages be brought back to life by their new owners?
---
The Don't Miss List – April 2023