The fan-favorite drama Sanditon on Masterpiece is coming to a close with its third and final season. If you're looking for more romance, adventure, and period costumes, here are seven of our top picks to watch after you finish the final season of Sanditon.
Spanning the Regency era to the early 20th century, these dramas will satisfy Jane Austen enthusiasts and period-piece lovers alike!
Stream now on your schedule with PBS KVIE Passport.
---
Pride & Prejudice
The now iconic adaptation of Jane Austen's Regency-era romance is the perfect go-to after watching Sanditon on Masterpiece, an adaptation of Austen's final and unfinished work. Much like Sanditon, Pride & Prejudice is set against the sweeping backdrop of England, this time in its idyllic countryside. Heroine Elizabeth Bennett is the second eldest out of five sisters whose lives may change for the better after the arrival of two eligible bachelors causes a stir in the neighborhood. Mayhem, matchmaking, and matrimony unfold as the spirited Elizabeth (Jennifer Ehle) initially clashes with the haughty and brooding Fitzwilliam Darcy (Colin Firth).
How to Watch:  Stream the 6-part series on the PBS App with PBS KVIE Passport.  Watch a preview.
---
Persuasion
Another adaptation of Jane Austen's work, Persuasion stars as Sally Hawkins as Austenian protagonist Anne Elliot. Once in love with handsome young naval officer Frederick Wentworth (Rupert Penry-Jones), a soldier with no prospects, Anne was persuaded by her family to break off their engagement. But her world is turned upside down when he returns from sea – wealthy and successful – and is now the target of every young woman intent on finding a husband. And a new suitor (Tobias Menzies) vying for Anne's hand in marriage complicates matters further. Will she and Wentworth be able to reunite and rekindle their relationship after eight years apart?
How to Watch:  Stream now on the PBS App with PBS KVIE Passport.  Watch a preview.
---
Poldark on Masterpiece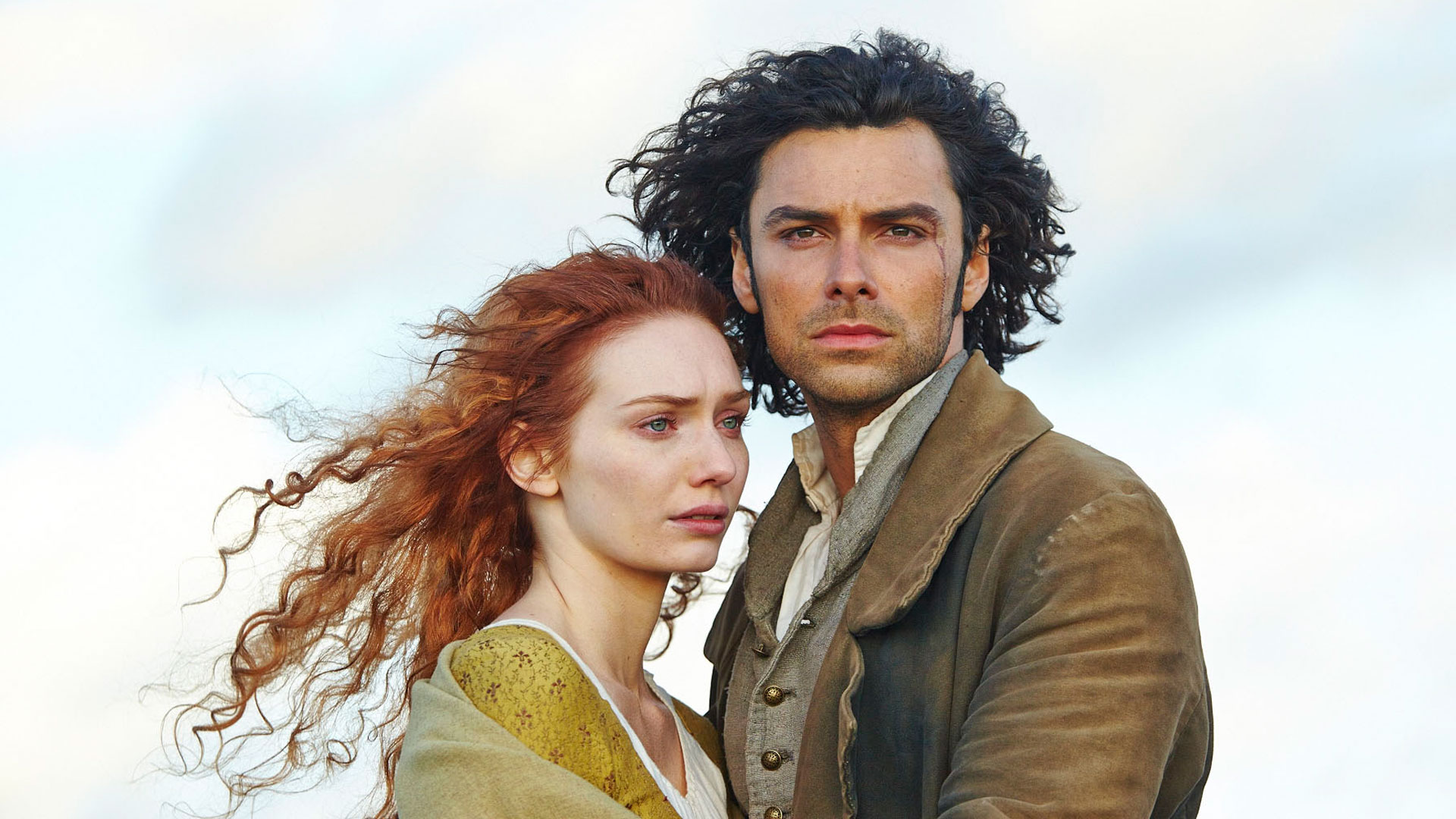 A brooding hero charts a path of redemption in this reimagined adaptation of the original series. After fighting in the American War of Independence, redcoat Ross Poldark (Aidan Turner) returns home to Cornwall to discover that his father is dead, his family lands are ruined, and his childhood sweetheart, Elizabeth, is engaged to another. Will he be able change his destiny and restore his lost fortune? Follow Poldark as he grapples with his new circumstances, while finding unexpected new romance with the spirited Demelza (Eleanor Tomlinson). Love triangles, mining escapades, feuding families, and more await him and an ensemble of intertwining characters in this deliciously entertaining drama.
How to Watch:  Stream seasons 1-5 on the PBS App with PBS KVIE Passport.  Watch a preview.
---
Howards End on Masterpiece
Two independent and unconventional sisters seek love and meaning in their lives in this coming-of-age story set against the backdrop of early 1900s England. Based on E.M. Forster's 1910 novel, Howards End on Masterpiece is told through the lens of three families: the wealthy Wilcoxes, the intellectual Schlegels, and the lower-middle class Basts. Margaret Schlegel (Hayley Atwell) is an idealistic young woman who is courted by the older and self-made businessman Henry Wilcox (Matthew Macfadyen). Meanwhile, Margaret's passionate and capricious younger sister Helen takes up the cause of Leonard Bast, a young bank clerk who falls on hard times.
How to Watch:  Stream the 4-part series on the PBS App with PBS KVIE Passport.
---
Victoria on Masterpiece
Scandal, corruption, and political intrigues of the royal court go hand and hand with sumptuous costuming and a spirited heroine in this series based on the young Queen Victoria. Ascending to the throne as a teenager in 1837, the young queen (Jenna Coleman) rises to become the most powerful woman in the world. Stretching from the upper echelons of the court to the below-stairs staff, Victoria on Masterpiece follows the inexperienced monarch evolve to become a resolute leader, wife, mother, and icon for the ages.
How to Watch:  Stream seasons 1-3 on the PBS App with PBS KVIE Passport.  Watch a preview.
---
Hotel Portofino
Romantic dalliances, political intrigue, and complex family dynamics coincide with the breathtaking Italian Riviera in this 1920s-set drama. Bella Ainsworth (Natascha McElhone), the daughter of a wealthy industrialist, begins a new life in Italy by setting up a quintessentially British hotel in the picturesque town of Portofino. Along with her husband and two children, she and an ensemble of eccentric guests contend with love, loss, and friendship – and the rise of Mussolini's fascism.
How to Watch:  Stream season 1 on the PBS App with PBS KVIE Passport.
---
Wide Sargasso Sea
Set in lush 19th-century Jamaica, this reimagined prequel to Charlotte Brontë's "Jane Eyre" paints a different story of Mr. Rochester's tragic first wife, Antoinette Cosway, years before her imprisonment in the attic at Thornfield Hall. Adapted from Jean Rhys' 1966 novel, Wide Sargasso Sea traces the arranged marriage between a young Antoinette (Rebecca Hall), a passionate Creole heiress, and a brooding Englishman, Mr. Edward Rochester (Rafe Spall), who fall in love – only to be torn apart by rumors, paranoia, and a cultural divide.
How to Watch:  Stream now on the PBS App with PBS KVIE Passport.
What to Watch After Sanditon: 7 Dramas to Stream Now