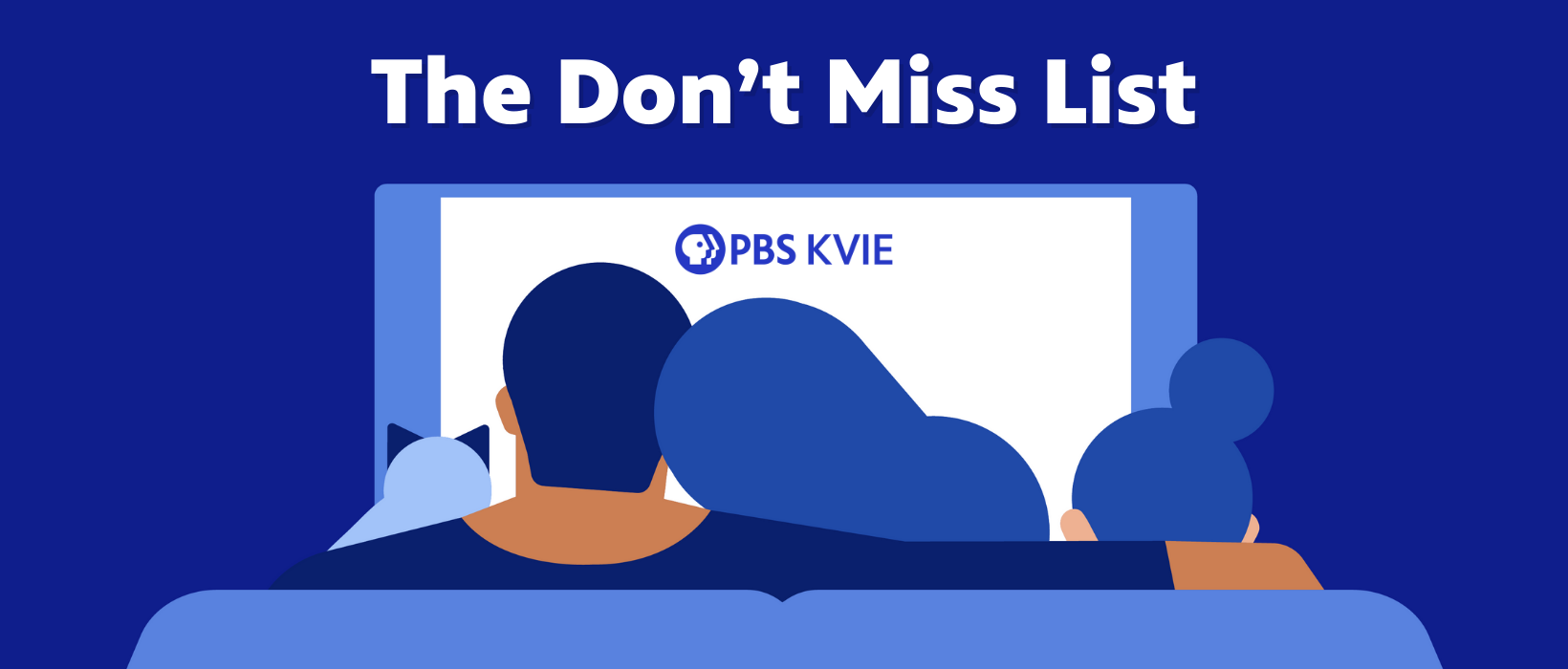 Each month we have a variety of great programs, which can make it hard to decide what to watch! We've compiled a ranking of programs with number one being an absolute MUST watch. Get ready to mark your calendar or set your DVR!
1. Unforgotten on Masterpiece, Season 5
Premieres Sunday, 9/3 at 9PM
Veteran London detectives uncover the truth behind more tangled, complicated murders from the past. Just before DCI Jessica James' first day in her new job, there's an unforeseen and devastating event involving her family life. Will she be in the right frame of mind to fit in with and inspire the team?
---
2. PBS KVIE Art Auction 2023
Friday 9/29, 7PM – 10PM
Saturday 9/30, Noon – 10PM
Sunday 10/1, 10AM – 8PM

Celebrate local arts with the 42nd annual PBS KVIE Art Auction! The live 3-day broadcast features spectacular art – all available for you to bid on and bring home. The collection of more than 270 works features art in six categories: figurative, landscape, sculpture, contemporary, photography, and still life.
View all the artworks that will be up for bid. Plus, find out how the auction works.
---
3. America Outdoors with Baratunde Thurston, Season 2
Premieres Wednesday, 9/6 at 8PM        
Journey across the nation to see how culture, history, and the land shape how we embrace an outdoor way of life. From a champion ice climber in Utah to BIPOC mountain bikers in the Ozarks to biologists saving snapping turtles on the Suwannee River, meet a fascinating cast of Americans who share a passion for the great outdoors.
---
4. American Masters: A Song for Cesar
Premieres Friday, 9/29 at 10PM
Examine the life and work of Cesar Chavez, a civil rights activist and labor leader who used music as a tool to unite and inspire workers during the United Farm Workers' struggle for better labor conditions. See how artists Joan Baez, Maya Angelou, Carlos Santana, and more used the power of music as a medium for political expression and social change.
---
5. Becoming Frida Kahlo
Premieres Tuesday, 9/19 at 9PM
Delve into the fascinating journey of Frida Kahlo's life, from her remarkable rise as a trailblazing painter from Mexico to her intimate struggles and triumphs. Discover more about her life and work through an engaging exploration of a visionary artist who shattered conventions and left an indelible mark on the canvas of history.
---
6. American Masters: Jerry Brown – The Disrupter
Premieres Friday, 9/15 at 9PM
Examine the political and personal journey of Jerry Brown, the longest serving governor in California history. First elected at 36 years old and again at 72, explore Brown's 50-year career as a natural disrupter. His record of forward-thinking policy making on issues such as inequality and climate change, among many others, serves as a source of inspiration in our troubled times.
---
7. American Experience: The Busing Battleground and The Harvest
Premieres Monday, 9/11 at 9PM – The Busing Battleground
Premieres Tuesday, 9/12 at 9PM – The Harvest
Explore the deeply mixed legacy of America's efforts to racially integrate public schools on two new documentaries. On The Busing Battleground, in 1974 Boston, Black and white students were bused for the first time between neighborhoods, setting off racial violence and class tensions across the city. On The Harvest, explore what happened when a small Mississippi town integrated its public schools in 1970.
Watch a preview of The Busing Battleground
---
8. Evolution Earth
Premieres Wednesday, 9/6 at 10PM
In this 5-part natural history series, travel to the far corners of the world to discover the extraordinary ways animals are adapting to our rapidly changing planet. Follow heart-warming tales of resilience that redefine our understanding of evolution and hint at how nature can show us a path towards a sustainable future for the planet.
---
9. Professor T (UK Version), Season 2
Premieres Sunday, 9/3 at 8PM
The brilliant but idiosyncratic Professor Jasper Tempest returns to help solve unusual crimes with his unique insight. New cases range from an unexplained fire in a student block to the mystery of an entire family found dead in their home. Meanwhile, Professor T is perplexed by the women in his life, from his mother to the love of his life, Christina.
---
10. Van der Valk on Masterpiece, Season 3
Premieres Sunday, 9/3 at 10PM

Amsterdam – city of bikes, boats… and bodies. Piet Van der Valk welcomes two new Sergeants to the team – the hotshot but impulsive Eddie Suleman and the technical whiz Citra Li. As much a maverick as ever, Van der Valk brings his unorthodox and individual style to every investigation.
---
The Don't Miss List – September 2023